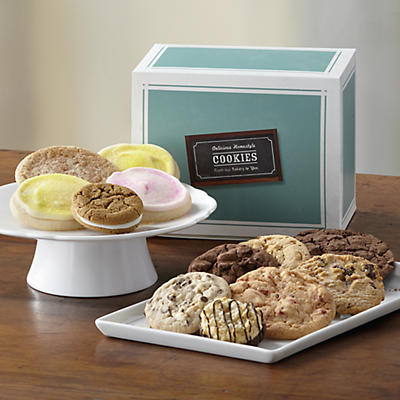 click on image to zoom
Click to see additional views
View our selection of greeting cards.
You can select and personalize a greeting card at checkout.
Create-Your-Own Cookie Collection - One Dozen
---
---
---
PRODUCT DESCRIPTION
The Create-Your-Own Cookie Collection makes the ideal custom gift for anyone who loves cookie gifts, and that includes just about everyone. To assemble your custom cookie gift, choose 12 of your favorite cookies, all made from scratch with the finest ingredients. The easy thing to do would be to just take one each of twelve varieties: Homestyle white chocolate raspberry, Homestyle double chocolate chunk, vanilla-filled ginger sandwich cookie, macadamia nut chocolate chip, snickerdoodle, homestyle peanut butter chocolate chunk, frosted vanilla, frosted strawberry, coconut macaroon, homestyle chocolate candy, peppermint (coated in chocolate) and homestyle chocolate caramel nut cookie. Yes, that would be easy, but have some fun and throw in a few extra of this kind or that. It's a custom gift, after all.
Your choice—click the SELECT ITEMS button above to choose any 12 flavors from the selection box:
Gingerbread sandwich (1 oz)
Oatmeal apple raisin (1 oz)
Frosted vanilla (1.6 oz)
White chocolate raspberry (1 oz)
Chocolate chocolate chunk (1 oz)
Chocolate caramel nut (1 oz)
Macadamia nut chocolate chip (1 oz)
Snickerdoodle (1 oz)
Frosted strawberry (1.6 oz)
Chocolate candy (1 oz)
Coconut macaroon (1 oz)
Peanut butter chocolate chunk (1 oz)
Standard Shipping and Processing: $6.95
For additional Shipping and Processing details click here.
Comments about Wolferman's Create-Your-Own Cookie Collection - One Dozen:
I was very satisfied with the taste, but for the price, I expected them to be bigger. A few were ok size, like my very favorite, the white chocolate raspberry. The sandwich-type ones weren't much bigger than an oreo. The peppermint chocolate one was very good also, would get that one again too. Frosted ones were good, soft and creamy.
Comment on this review
Flavorless
Hard
Terrible aftertaste
Comments about Wolferman's Create-Your-Own Cookie Collection - One Dozen:
I looked forward to getting these. I love cookies and have not indulged myself with "designer" ones in a long time. I've only eaten 3 of the 6 types I ordered but saw no reason to wait for the other 3 before writing this. First one I tried was the Peanut Butter/Chocolate cookie. On the first bite, I got a definite hint of peanut butter flavor; after that all I could taste was chocolate (and not a terrific one, at that). The texture was much harder than it should be for a basically soft cookie. Next was the Raspberry/White Fudge. These actually were fairly good. Strong raspberry flavor for the first few bites until the fudgy flavor overwhelmed it. Again, the cookie was beyond crisp encroaching on hard. The last I tried was the Snickerdoodle. I've heard of them for years but have never eaten one. I'm still not sure I have eaten one! The cookie was almost totally flavorless and rock hard. I tried to break off a piece for my dog and the cookie shattered! BTW, the dog liked it. The aftertaste from Snickerdoodle is terrible. I've brushed and gargled and can still taste it. I'll wait until tomorrow to try the other 3 types.
Comment on this review