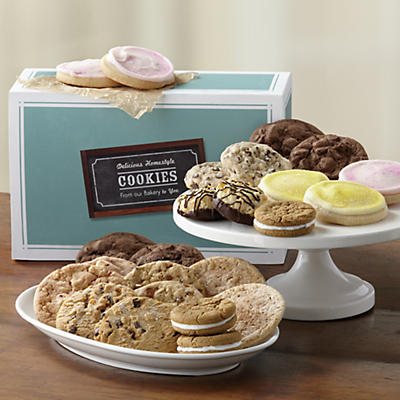 click on image to zoom
Click to see additional views
View our selection of greeting cards.
You can select and personalize a greeting card at checkout.
Create-Your-Own Cookie Collection - Two Dozen
---
---
---
PRODUCT DESCRIPTION
The Create-Your-Own Cookie Collection makes the ideal custom gift for anyone who loves delicious cookies. With both traditional flavors and new tasty bakery creations to choose from, two dozen cookies give you the chance to try a little bit of everything. To create your custom cookie gift, choose 24 of your favorite cookies, all made from scratch with the finest ingredients. The easy thing to do would be to just take two each of 12 varieties: white chocolate raspberry, double chocolate chunk, vanilla-filled ginger sandwich, macadamia nut chocolate chip, snickerdoodle, peanut butter chocolate chunk, frosted vanilla, frosted strawberry, coconut macaroon, chocolate candy, dark chocolate peppermint and chocolate caramel nut cookie. Yes, that would be easy, but have some fun and throw in a few extra of this kind or that. It's a custom gift, after all.
Your choice—click the SELECT ITEMS button above to choose any 24 flavors from the selection box:
Gingerbread sandwich (1 oz)
Oatmeal apple raisin (1 oz)
Frosted vanilla (1.6 oz)
White chocolate raspberry (1 oz)
Chocolate chocolate chunk (1 oz)
Chocolate caramel nut (1 oz)
Macadamia nut chocolate chip (1 oz)
Snickerdoodle (1 oz)
Frosted strawberry (1.6 oz)
Chocolate candy (1 oz)
Coconut macaroon (1 oz)
Peanut butter chocolate chunk (1 oz)
Standard Shipping and Processing: $8.95
For additional Shipping and Processing details click here.
Good Variety To Choose
Individually wrapped
Comments about Wolferman's Create-Your-Own Cookie Collection - Two Dozen:
The cookie variety is excellent. Since I'm addicted to the Wolferman muffins and fruitcake, I thought the next thing to try would be some delicious cookies.
Flavor-wise , each cookie tasted good. I was a bit disappointed in the fact they seemed dry and a bit stale.
I'll probably try again and be a little more selective. The white chocolate raspberry rock!
Service and delivery comments:
Delivery was fast and arrived in good condition.
Comment on this review