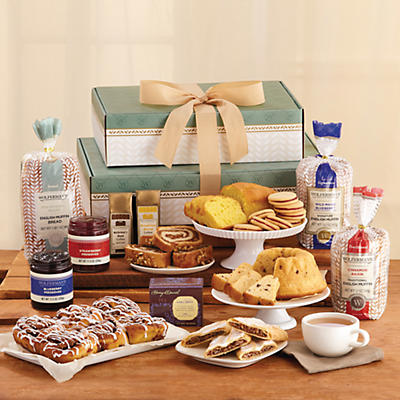 click on image to zoom
Click to see additional views
View our selection of greeting cards.
You can select and personalize a greeting card at checkout.
PRODUCT DESCRIPTION
Especially designed for a group, the Bakery Banquet Tower features a wide selection of gourmet goodies. Here's an impressive spread that will please the crowd, starting with a variety of super thick English muffins, pre-sliced English muffin bread and tangy fruit preserves. There's a wealth of bakery pastries to choose from, like our remarkable cinnamon rolls, mouthwatering lemon tea bread and pecan kringle pastries. Gourmet coffees and tea complete this delicious array of treats, perfect for an office party or any gathering.
Wild Maine blueberry signature English muffins, 1 pkg. (4 muffins, 14.5 oz)
Cinnamon raisin traditional English muffins, 1 pkg. (6 muffins, 12 oz)
1910 original recipe English muffin bread (17 oz)
Cinnamon swirl (1 lb)
Tangy lemon tea bread (11 oz)
Cinnamon toffee mini bundt cake (12 oz)
6 classic cinnamon rolls with 4 icing packets (1 lb 8 oz, 5.6 oz)
2 pecan kringles (3.5 oz each)
Raspberry galettes (5.25 oz)
Strawberry preserves (11.5 oz)
Blueberry preserves (11.5 oz)
Wolferman's® Blend ground coffee (2 oz)
Breakfast Blend ground coffee (2 oz)
Earl Grey tea, 1 box (10 bags, 0.7 oz)
Net Weight: 9 lb 5 oz
Standard Shipping and Processing: $14.99
For additional Shipping and Processing details click here.
delicious
large assortment
Nicely displayed
Well packaged
Bereavement
Birthday
Get Well
Holiday
Movingnew Home
Thinking of You
Comments about Wolferman's Bakery Banquet Tower:
This is the second time I have ordered from Wolfermans in the past two months. Aside from being extremely pleased with the product quality and appearance, the updates on shipping and delivery information are very helpful. Thank you
Comment on this review
Comments about Wolferman's Bakery Banquet Tower:
Gave as a gift had had no complaints
Comment on this review