Benefits of Corporate Gifting
A Delicious Return on Investment
Gifting is a great way to express appreciation to employees, acknowledge the achievement of goals and honor business milestones. Ideal for professions that have a high lifetime value business relationship, a business gift provides a means both of making contact and of staying engaged.
As a promotional tool, gifting will help you convert customers to loyal customers, retain seasonal or cyclical clientele, reconnect with lapsed customers and create a reciprocal relationship.
More Than a Handshake
Much more than an annual holiday touch-base with clients, a robust corporate gifting program is a potent goodwill tool. Gifting is crucial to expressing appreciation towards employees, acknowledging the achievement of goals, honoring personal and business milestones, enhancing celebrations and much more. You can also use it to contact lapsed customers.
Contact a Business Consultant at 877-233-9000
Sending corporate business gifts are the standard for many industries, and for good reason. Providing business gifts for customers is a stronger expression of appreciation than a simple thank you or handshake. Contact our Business Consultant for a complimentary new business gifts consultation and put gifting to work for your organization.
Backed by the Strongest Guarantee in the Business
You and those who receive your gifts must be delighted, or we'll make it right with either an appropriate replacement or refund.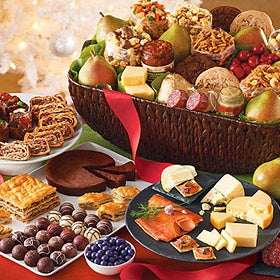 The baskets I send make a big impression and demonstrate professionalism to my clients. This is money well spent.
- Ron Stephens, Lexus of Tacoma