Deluxe Ham Brunch Banquet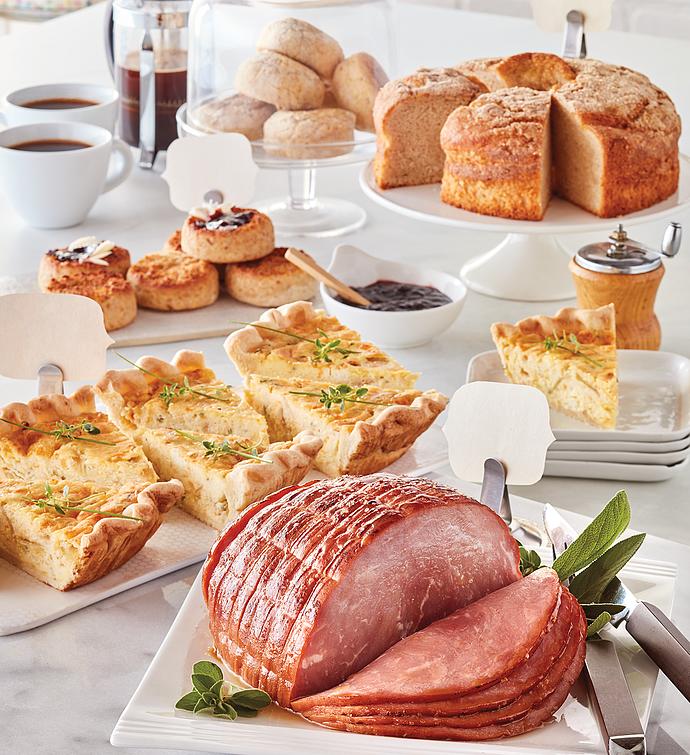 Deluxe Ham Brunch Banquet
Express two-day shipping is included on this gift. Only standard shipping and processing charges will apply. Please note: To avoid weekend transit, orders placed after 10 AM PT / 1 PM ET on Wednesday will ship on Monday of the following week.
Honey-glazed spiral-sliced ham (1 package, 2 lb)
Triple Cheese and Caramelized Onion Quiche (1 lb 12 oz)
Cinnamon Sour Cream Coffee Cake (1 lb 8 oz)
Multi-grain honey mini English muffins, 1 pkg. (12 muffins, 12 oz)
Triple berry preserves [strawberries, blackberries, blueberries] (5 oz)
Tiffin blend ground coffee (2 oz)
Net Weight: 6 lb 13 oz
Create a mouthwatering brunch with ease. This impressive spread arrives with a succulent pre-sliced ham, a triple cheese and caramelized onion quiche, and triple berry preserves to top the multi-grain honey mini English muffins. And everyone will perk up when you serve breakfast blend coffee alongside cinnamon sour cream coffee cake.