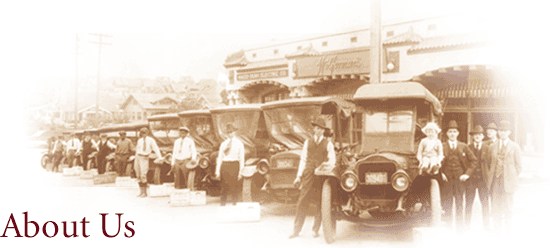 Wolferman's has been a proud purveyor of specialty foods for over 100 years. Louis Wolferman founded what would become the nation's premiere specialty foods company in 1888, with the opening of Wolferman's corner grocery store in Kansas City, Missouri. He adopted the slogan "Good Things to Eat" and insisted on only the finest products with the best possible ingredients for his customers.
Constantly striving to provide exceptional food experiences, Louis' son, Fred, started making the most unique English muffins in 1910, when he discovered that he could obtain an unusual size and texture by utilizing tuna cans as molds to form and bake muffins on a fiery open griddle. Today, the tuna cans are gone, but the recipe has stayed much the same, and the muffins that began with a loyal following in Kansas City are now prized by fancy food aficionados around the country.
Wolferman's English muffins are perhaps our most recognized specialty food items, but as you will find, they are only the beginning. We also bake the very finest scones, tea breads and crumpets, and offer delicious toppings, elegant desserts, premium teas and specially blended coffee. More than a century after Wolferman's was founded, we still operate under Louis Wolferman's promise of delivering exceptional food experiences to our valued customers.
Wolferman's confidently guarantees your complete satisfaction with every one of our products, whether you buy them online, over the phone or in a store. If you are not delighted with your purchase for any reason, we will promptly make things right with a replacement or a refund — whichever you prefer. After all, serving satisfied customers is the most important part of the Wolferman's long and proud heritage.
We hope you will enjoy browsing through our new holiday catalog as much as we have enjoyed creating these irresistible food offerings. Through our convenient online ordering system, or our toll free phone number, you can deliver exceptional food experiences anywhere in the country… or enjoy them yourself! We invite you to contact us with any comments or questions:
Wolferman's
2500 S. Pacific Hwy.
PO Box 9000
Medford, OR 97501-0700
To place an order by phone: 1-844-818-0084 Monday thru Friday 5am–9pm PST and Saturday & Sunday 6am–8pm PST (subject to change).
Customer Service: 1-844-818-0084 Monday thru Friday 5am–9pm PST and Saturday & Sunday 6am–8pm PST (subject to change).
Fax an Order: 1-800-999-7548
E-mail: service@wolfermans.com