Davidovich Bakery New York Bagel Assortment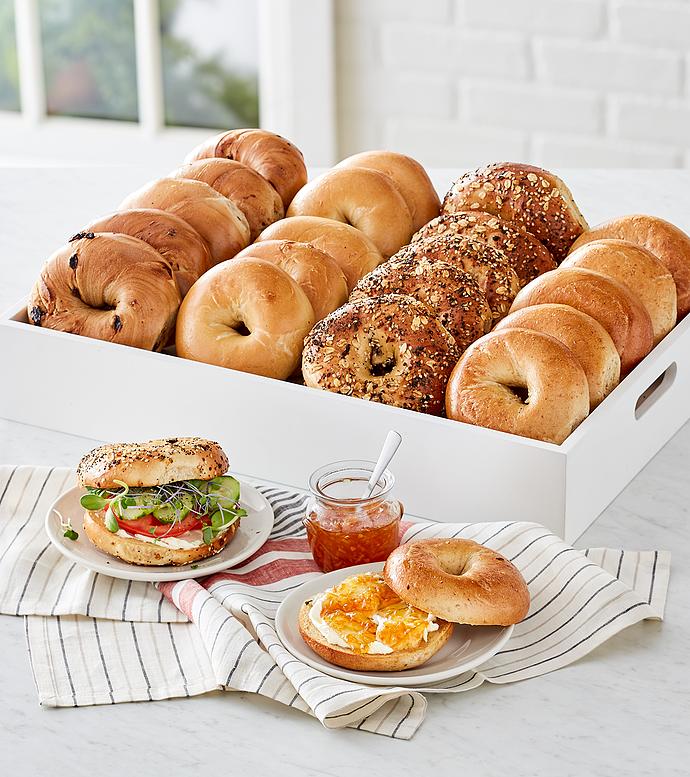 Davidovich Bakery New York Bagel Assortment
Express two-day shipping is included on this gift. Only standard shipping and processing charges will apply. Please note: To avoid weekend transit, orders placed after 10 AM PT / 1 PM ET on Wednesday will ship on Monday of the following week.
Davidovich Bakery bagels, 4 pkgs. (5 bagels, 1 lb 7 oz each pkg.):
Cinnamon raisin
Plain
Everything
Whole wheat
Net Weight: 5 lb 12 oz
Now you can experience the most amazing bagels in our Davidovich Bakery New York Bagel Assortment. With the first bite you'll notice the glossy and almost crunchy exterior, followed by an interior that is blissfully soft and chewy. New York artisans have perfected the craft and hand-roll each bagel individually. The bagels are then kettle-boiled and baked in the oven on wooden planks. Made from all-natural ingredients, this delicious gourmet assortment includes five bagels of each flavor: Plain, Cinnamon Raisin, Everything, and Whole Wheat. Kosher.
Davidovich bagels are preservative-free. Please refrigerate or freeze them upon receipt.