Mix & Match Super-Thick English Muffins Gift Box with Tongs - 4 Packages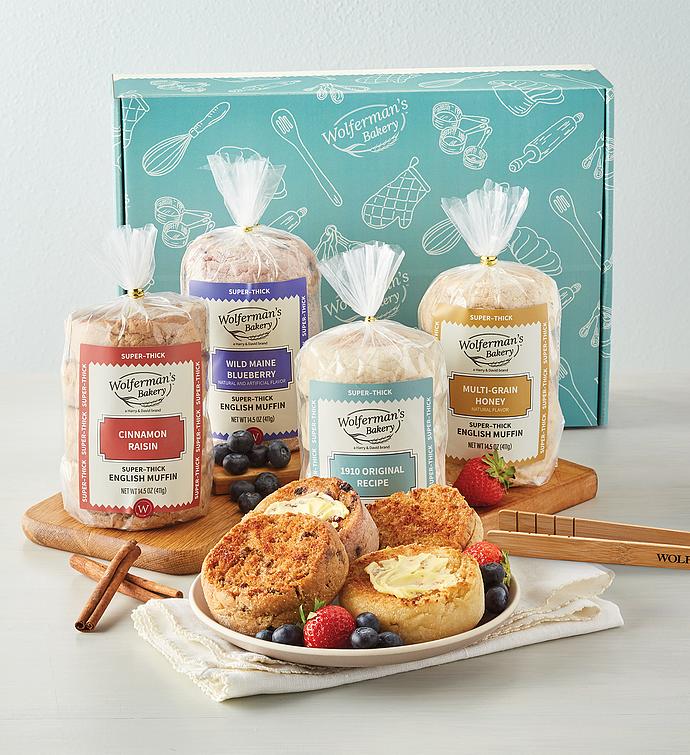 Mix & Match Super-Thick English Muffins Gift Box with Tongs - 4 Packages
Mix & Match Super-Thick English Muffins Gift Box with Tongs - 4 Packages
23216W
AVAILABLE TO SHIP NOW
Your choice—click the SELECT ITEMS button above to choose any 4 flavors from the selection box:
1910 original recipe, 1 pkg. (4 muffins, 14.5 oz)
Cheddar cheese, 1 pkg. (4 muffins, 14.5 oz)
Cherry blossom, 1 pkg. (4 muffins, 15 oz)
Chocolate chip, 1 pkg. (4 muffins, 14.5 oz)
Cinnamon chip, 1 pkg. (4 muffins, 14.5 oz)
Cinnamon raisin, 1 pkg. (4 muffins, 14.5 oz)
Cranberry citrus, 1 pkg. (4 muffins, 15 oz)
Garlic herb, 1 pkg. (4 muffins, 14.5 oz)
Jalapeño cheddar, 1 pkg. (4 muffins, 14.5 oz)
Maple almond-flavored, 1 pkg. (4 muffins, 14.5 oz)
Multi-grain honey, 1 pkg. (4 muffins, 14.5 oz)
Pumpkin spice, 1 pkg. (4 muffins, 14.5 oz)
San Francisco-style sourdough, 1 pkg. (4 muffins, 14.5 oz)
Sweet harvest wheat, 1 pkg. (4 muffins, 14.5 oz)
Wild Maine blueberry, 1 pkg. (4 muffins, 14.5 oz)
Send a customized collection of our world famous, super-thick English muffins. Their extra thickness means this signature favorite can handle any topping, and their tiny air pockets make for a crisp, perfect bite every time.

Choose from a variety of distinct flavors, all uniquely satisfying and certified kosher. Select four packages of any of our flavors to create a delightful personalized gift you know they'll love.

Four muffins per package. Arrives in a cream gift box with a pair of signature bamboo tongs to easily handle English muffins and other baked goods when they're hot.