Mix & Match Super-Thick English Muffins Gift Box with Tongs - 6 Packages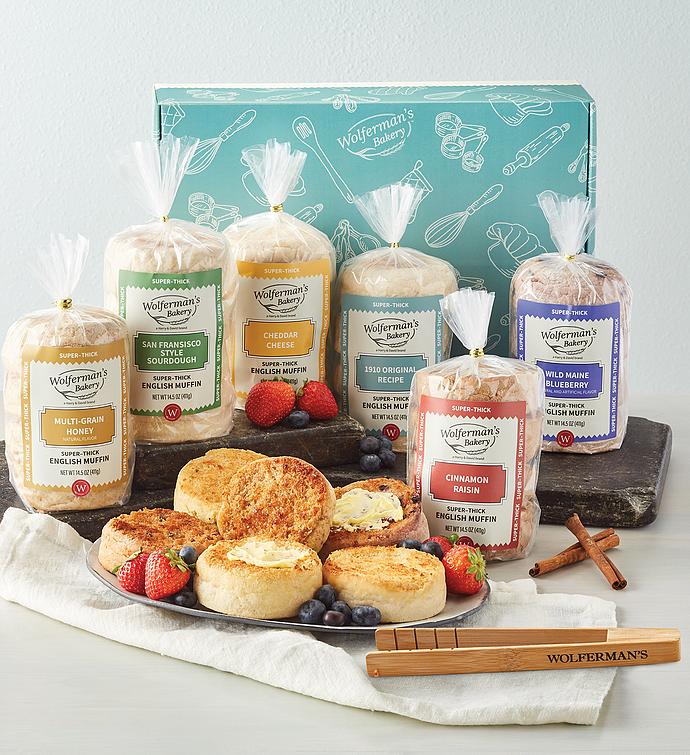 Mix & Match Super-Thick English Muffins Gift Box with Tongs - 6 Packages
Mix & Match Super-Thick English Muffins Gift Box with Tongs - 6 Packages
23217W
AVAILABLE TO SHIP NOW
Your choice—click the SELECT ITEMS button above to choose any 6 flavors from the selection box:
1910 original recipe, 1 pkg. (4 muffins, 14.5 oz)
Cheddar cheese, 1 pkg. (4 muffins, 14.5 oz)
Cherry blossom, 1 pkg. (4 muffins, 15 oz)
Chocolate chip, 1 pkg. (4 muffins, 14.5 oz)
Cinnamon chip, 1 pkg. (4 muffins, 14.5 oz)
Cinnamon raisin, 1 pkg. (4 muffins, 14.5 oz)
Cranberry citrus, 1 pkg. (4 muffins, 15 oz)
Garlic herb, 1 pkg. (4 muffins, 14.5 oz)
Jalapeño cheddar, 1 pkg. (4 muffins, 14.5 oz)
Maple almond-flavored, 1 pkg. (4 muffins, 14.5 oz)
Multi-grain honey, 1 pkg. (4 muffins, 14.5 oz)
Pumpkin spice, 1 pkg. (4 muffins, 14.5 oz)
San Francisco-style sourdough, 1 pkg. (4 muffins, 14.5 oz)
Sweet harvest wheat, 1 pkg. (4 muffins, 14.5 oz)
Wild Maine blueberry, 1 pkg. (4 muffins, 14.5 oz)
Discover an exceptional gift for any occasion—Wolferman's® super-thick English muffins. Made with premium ingredients, this delicious favorite is extra thick and has a texture that toasts up crispy and perfect every time.

Choose six packages from among our many incredible and unique flavors, all certified kosher.

Four muffins per package. This gift box includes a pair of signature bamboo tongs to easily handle English muffins and other hot bakery items.