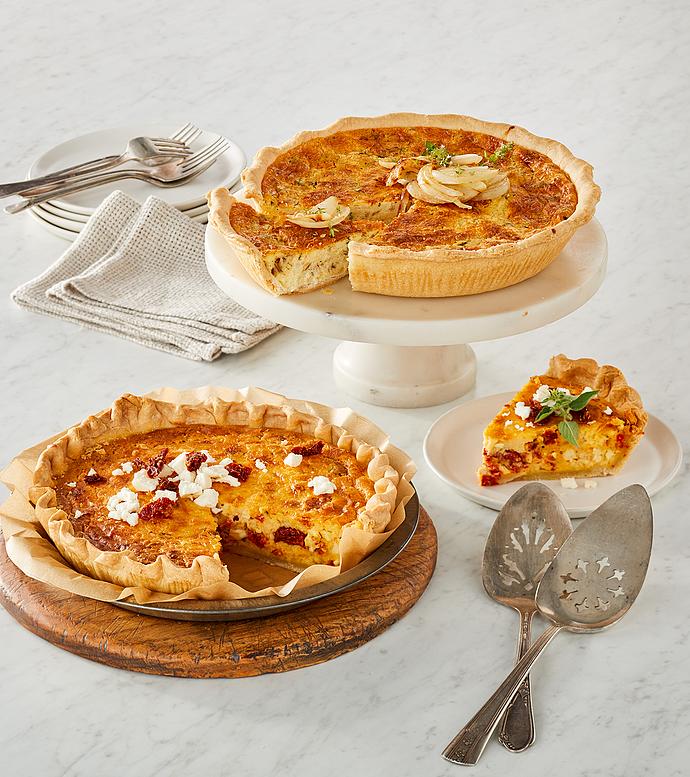 Express two-day shipping is included on this gift. Only standard shipping and processing charges will apply. Please note: To avoid weekend transit, orders placed after 10 AM PT / 1 PM ET on Wednesday will ship on Monday of the following week.
2 ready-to-bake quiche (1 lb 12 oz each):
Triple cheese and caramelized onion
Sun-dried tomato and feta
Net Weight: 3 lb 8 oz
This delicious quiche duo features two incredibly flavorful varieties that will make your breakfast, brunch, or even your breakfast-for-dinner delectably easy. The first is a sun-dried tomato and feta quiche with a mouthwatering mixture of creamy egg custard, sun-dried tomatoes, feta and mozzarella cheeses, Italian herbs, and a hint of garlic in a savory crust. The tasty triple cheese and caramelized onion quiche is made with the same creamy egg custard base and includes chives, heavy cream, cheddar, whole milk mozzarella, and feta all set in a traditional pie shell. Both gourmet quiches arrive fully baked, frozen, and ready to heat and serve.